Welcome to the semi-official...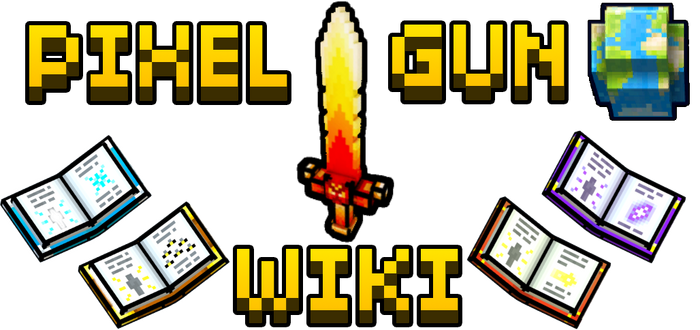 the #1 source of information about Pixel Gun 3D and Pixel Gun World!
If you have an account, please check out the full rules before you start editing!

and

are first person shooter games created by Alex Krasnov and/or
Cubic.Games
. They include a wide variety of content including
weapons
,
maps
,
armor
,
gadgets
,
modes
and much more.
This semi-official online encyclopedia and guide (wiki) about Pixel Gun, founded on December 14, 2013, will attempt to describe all game content from the mentioned games in the best of ability, strategy, function, appearance and various other aspects of both of the Pixel Gun games.

If you have a registered account, you can help and start adding and/or editing pages to help improve them.
Featured Article: Ultimatum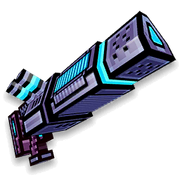 The Ultimatum is a Primary weapon released in the 15.3.0 update. It was originally obtainable from the Cyber Season Battle Pass, then it was obtainable in the Trader's Van along with its skin for 750

(previously 450

, then 1000

) for a limited time.
It was currently unobtainable and the developers didn't really plan to return it to the Trader's Van.[1] However, it is unsure that whether it can be obtained in one of the new features, the Black Market or not.
As of May 1, 2020, it was brought back to the Trader's Van to celebrate Pixel Gun 3D's Birthday, and it would probably be the last time Ultimatum was brought back. Though, as of May 4, 2020, at 10:00 AM UTC, it is no longer obtainable from the Trader's Van.
Other Hot Spots:
---
Last updated: May 31, 2020 by AndrewisAndrew.
17.7.0 Update
Where could the Update 17.7 be? Nowhere, but under the Sea!
New events:
Atlantis Season. Sea bottom dwellers are happy to welcome you
Giant Scuba Diver Set. Who is the Big Daddy now?
Deep Dive Lottery. Diving has never been this safe
Trader's Van. Additional bonus for the whole set
Improvements
Rework of the Atlantis map. New depth unlocked!
Cluster Bombs rework. Just as you've asked
Black market improvements
Better indication of the remaining enemies in 3x3 and Deadly Games
Pixel Mirror Realm
The Pixel Mirror Realm event has ended. The players who completed all of the six challenges (i.e. the event winners) will receive, in up to two weeks, 1,000 coins and 500 gems as a reward for participating in the event and finishing the challenges!
XSaige Tournament
The XSaige Tournament of Three Category Spamming has ended.
Discord Server
Whether it could be used for discussing Pixel Gun 3D, the development of the wiki, or just chatting in an off-topic manner and for fun, all of this is available in our official Discord server! Get Invite VIEW INFO
Fanart Wiki
Want to create conceptions for the Pixel Gun franchise? Want to read some ideas and share them? You can do all that, in our sister site, the Pixel Gun Conception Wiki. There even is a dark theme, to improve your experience at night.
VISIT THE FANART WIKI 🡪
This wiki has:
2,427 pages
14,697 files
324,771 total edits
What do you think about the Pixel Mirror Realm Event?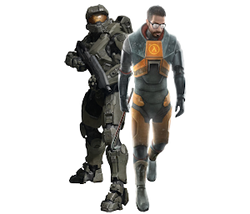 Community content is available under
CC-BY-SA
unless otherwise noted.