Welcome to the semi-official...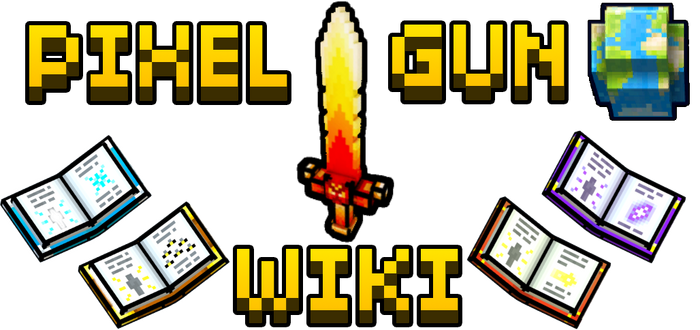 the #1 source of information about Pixel Gun 3D and Pixel Gun World!
If you have an account, please check out the full rules before you start editing!

and

are first person shooter games created by Alex Krasnov and/or
Cubic.Games
. They include a wide variety of content including
weapons
,
maps
,
armor
,
gadgets
,
modes
and much more.
This semi-official online encyclopedia and guide (wiki) about Pixel Gun, founded on December 14, 2013, will attempt to describe all game content from the mentioned games in the best of ability, strategy, function, appearance and various other aspects of both of the Pixel Gun games.

If you have a registered account, you can help and start adding and/or editing pages to help improve them.
Featured Article: Community Van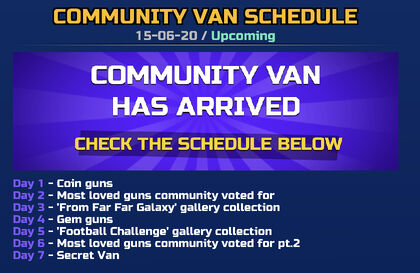 The Community Van is a special type of van made for the Pixel Gun 3D community. It is a unique type of van that is scheduled with weapons of different categories every day for 7 days.
On June 11, 12, and 13, 2020, the developers asked the community what weapons do they want to return using the #votes channel in Pixel Gun 3D Discord. They posted around 15 popular weapons with their images every day for a few days. One can vote by reacting with the green plus icon below the weapon's image. The most voted weapons will be coming soon into the Trader's Van.
Other Hot Spots:
---
Last updated: June 17, 2020 by AndrewisAndrew.
This week the Community Van will be adding 7 days of special weapons. The following is the schedule for the week.
Day 1 — Coin guns
Day 2 — Most loved guns community voted for
Day 3 — 'From Far Far Galaxy' gallery collection
Day 4 — Gem guns
Day 5 — 'Football Challenge' gallery collection
Day 6 — Most loved guns community voted for pt.2
Day 7 — Secret Van
17.8.0
As High as Olympus, the Update 17.8 rests in the sky
What's inside:
Olympian season in Battle Pass. Meet both Old & New Gods. Carry the Thunder of Zeus or the Spear of Ares
Insidious Hades Set. Look into the eyes of Cerberus. Hold on, there are 6 eyes on that Melee
Titans Lottery. Lava, Ice, Rock. Be them. Use them
Hercules Van. 3 Mythical weapons for 3 legendary Labours
Ascension of Olympus. New map for the PG gods!
Knife Party rework. The party got funkier
Discord Server
Whether it could be used for discussing Pixel Gun 3D, the development of the wiki, or just chatting in an off-topic manner and for fun, all of this is available in our official Discord server! Get Invite VIEW INFO
Fanart Wiki
Want to create conceptions for the Pixel Gun franchise? Want to read some ideas and share them? You can do all that, in our sister site, the Pixel Gun Conception Wiki. There even is a dark theme, to improve your experience at night.
VISIT THE FANART WIKI 🡪
This wiki has:
2,455 pages
14,440 files
333,027 total edits
What do you think about the Pixel Mirror Realm Event?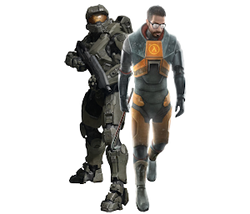 Community content is available under
CC-BY-SA
unless otherwise noted.