| | | | |
| --- | --- | --- | --- |
| | | This content is available in both Pixel Gun 3D and Pixel Gun World! If this is a game content, its counterpart is described in another article! | |
This article describes a Pixel Gun 3D content. If you are looking for the same article in Pixel Gun World, see Banning System (PGW).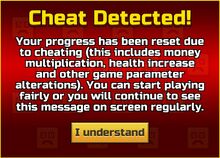 The Anti-Cheat System is a system introduced in the 11.4.0 update. It resets the progress of any user if cheating was detected.
Description
The Anti-Cheat System resets the accounts of players, usually, if they either enabled "god mode" (hacking the game with infinite health, no cooldown for gadgets, etc.) or if a player had too much currency, which is the most common reason why players get their account reset.
If a cheat is detected, the player will be notified of having their account reset due to their actions. They are told that they can either to continue playing the game normally or continue cheating, which will result in them getting the same result until they stop doing so.
For Android users, currency hackers would have to either reinstall the app or clear their Pixel Gun data to play normally.
Resetting Sprees
Resetting sprees are when the Pixel Gun Company resets the accounts of many players. So far, there are two resetting sprees:
11.4.0 update: This resetting spree resets the accounts of players that had millions of Coins and Gems. Usually, if they had at least 40,000 coins and/or gems, their account would've been reset.
12.5.1 update: This resetting spree is different: While there still were currency hackers, this spree reset the accounts of innocent players, for no bad reason. Most of the players weren't supposed to have the accounts reset because the Pixel Gun Company multiplied the currency in the 12.5.0 update at one point, then they thought most of the players were "hacking their currency", which made them have their accounts reset.
Trivia
In the 12.5.2 update, the issue of having a reset account may be fixed for some players.
Miscellaneous Content

= Complete

Category page