INTRODUCTION
Ever since the last few updates (8.0.0+), coin farming has changed monumentally. Gone are the days of increased rewards for leveling up, instead you get primarily 10 gems and 35 coins whether you're going from level 13 to 14 or 1 to 2. This may seem like a lot for newer and inexperienced players, but this means that, excluding starting gems, you need 11-18 levels to get a gem weapon! Luckily, I'm here to tell you how to maximize your time and money.
METHOD ONE- DEADLY GAMES
We all might think of the deadly games as the worst way to get coins/exp, but the newer versions have really pumped it up.
1 kill= 2 coins.
2 kills= 3 coins.
3 kills= 4 coins.
4 kills= 5 coins.
5 kills= 6 coins.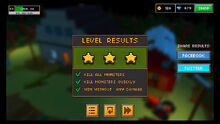 METHOD TWO- CAMPAIGN
**Disclaimer**- You will only get exp when you 3-star a mission.
For completing a Campaign Mission, you will be rewarded 1-3 coins and 5 exp. Additionally, for completing the last level in a mission, loads of coins, gems(!) and exp are rewarded. This equates to, if you get 3 stars on the first try every time, you can look about 50 coins an hour.
METHOD THREE- CO-OP SURVIVAL
Team survival has always been the tried and true method for coin farming, but with new methods and weapons it has been made a lot easier.
For coming in 1st in team survival, without premium, a decent 3 coins and 20 exp are rewarded. Each match is 4 minutes, so a maximum of 45 coins can be earned per hour, in addition, with 300 xp.
To make this easier, create a server, make it maximum of to players and play. Providing you win (which unless you're screwing around) you will get the rewards.
METHOD FOUR- POINT CAPTURE, TEAM BATTLE, AND FLAG CAPTURE
These three don't give you many coins (2 coins per match if you're the top scoring player), but do give you a boatload of experience. You will receive 10 exp per match if you're the top scoring player.
EPILOGUE
Thanks for reading this article and I truly hope, and believe, that it will help you. If you don't want to spend a ton of money, these are the best four ways to earn coins.
Community content is available under
CC-BY-SA
unless otherwise noted.