| | | | |
| --- | --- | --- | --- |
| | | This is a removed content. It is no longer available in Pixel Gun 3D. | |
| | | | |
| --- | --- | --- | --- |
| | | This content is exclusive to Pixel Gun 3D. It isn't in Pixel Gun World! | |

The Cupid's Bow Up2 is a Sniper weapon introduced in the 10.1.0 update. It's the second and final form of the Cupid's Bow.
Appearance
It looks like a bow with a little bit of colors on it, and it has a heart on the tip of the bow.
Strategy
Tips
Aim for the head as much as you can.
Don't stop dodging, jumping and killing at the same time. For the easiest targets, use this technique on low armored players wielding weapons that aren't really effective and/or introduce a slow fire rate.
Use this in medium range due to the weapon being scope-less despite it being a sniper.
Since Sandbox weapons like this are unlocked at level 1, and this is the Up2 version of the Cupid's Bow, being unlocked at level 22, this is best suitable in levels over 22.
Counters
Pick off its users from long range.
Upgrades
N/A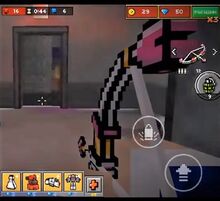 Theme
Valentine's Day themed.
Supported Maps
Weapon Setups
Have a more lethal weapon with a better fire rate.
Trivia
This weapon was the only weapon in the Primary section that has the melee interface.

However, it is relocated into the Sniper section as of the 10.2.0 update.

When you run out of ammo an arrow is still shown.
This weapon is the only bow with area damage.
In the 12.5.0 update, this upgrade was removed, due to the updated upgrade system.
Removed Content

Weapons

Primary
Backup
Melee
Special
Sniper
Heavy

Maps

Wear

Gadgets
Modes
Craft Items
Other
Games

= Complete

Category page