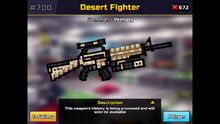 Are you looking for the following counterparts: the multiplayer-usable Combat Rifle or the Campaign and Deadly Games exclusive Army Rifle?
The Desert Fighter is a Primary weapon introduced in the 17.4.0 update. It was originally a weapon obtainable for normal players for a very short amount of time, but now, it exists as a means to catch hackers.
Description
An AR-type weapon that is innocent-looking at first glance, but because of it's availability to players who use cheats, hacks or third-party applications to obtain all of the weapons in the game, players and hackers can be easily distinguished to those who simply have the weapon or not.
Appearance
This weapon is based on the real-life M16A3 (and the earlier PG3D Combat Rifle (PG3D) and more especially, the Army Rifle) with an added scope resembling an ACOG scope and with an under-barrel grenade launcher attachment that likewise with other weapons, cannot be used. The color is also a desert camouflage that is applied to the grenade launcher as well as the optics scope, unlike the former two weapons and it uses darker accents.
Performance
The weapon's behavior is exactly to a Combat Rifle/Army Rifle in terms of performance, but because of its intended and limited purpose of detecting players performing illegitimately practices within the game, it cannot be used in any online gamemode.
Equipment Setups
It is not a great weapon because of its low capacity. Nonetheless, it is a 20 shot kill and is good when practicing aim.
Changelog
Initial release. It was available for a brief time at the cost of 200 or 30 Gallery Coupons but it was shortly removed to prevent accidental bans.
Mystery
There isn't actually anything about this weapon to do with hackers. It appeared for everyone, although many weren't aware of its appearance in the armory, therefore, misleading rumors sprang that it was a hacker detector.
Trivia
Like the Combat Rifle and the Army Rifle, this weapon is based on the M16A3 assault rifle.
This is the first weapon to be created for detecting hackers. However, upon its release, it was a normally obtainable weapon for a very short amount of time but it became a hacker detector weapon after that.

It is unknown if players who legitimately (or accidentally) have the weapon prior to its removal from the Armory kept and remained unbanned.
The only players known to currently have it, without hacks, are (by Youtube usernames) Deadly24, Tyoshii Plays and ProZXII
See Also

Primary
Community content is available under
CC-BY-SA
unless otherwise noted.