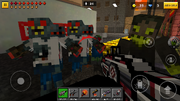 The Double Headed Zombie is a common enemy found in numerous Campaign levels.
Appearance
The Double Headed Zombie is a zombie with dark aqua skin and a very large body frame, nearly twice the size of a regular Injured Zombie.
It appears to be wearing tattered blue jeans and a shredded white T-shirt, half of which is ripped away, revealing what seems to be a missing rib. It has a red substance on its hands which resemble blood.
It has 2 heads, 1 bigger (left), 1 smaller (right). The smaller head only has a pair of black eyes and a fleck of blood atop its head, while the bigger head has a mouth with a few yellow teeth and 2 widespread red eyes. Its arms have a brown substance all over them, which could be dirt, mud, or dried blood.
Stats
| Difficulty | Health | Damage | Speed |
| --- | --- | --- | --- |
| Easy | 16 | 4 | Slow |
| Medium | 18 | 5 | Slow |
| Hard | 20 | 6 | Slow |
Behavior
It will shamble towards the player and when it got close enough, it flails their right arm towards them. It has a decent maneuverability relative to its surroundings.
Levels
Trivia
Enemies

Enemies
Bosses

= Complete

Category page
Community content is available under
CC-BY-SA
unless otherwise noted.