| | | | |
| --- | --- | --- | --- |
| | | This content is exclusive to Pixel Gun 3D. It isn't in Pixel Gun World! | |
The Dual Uzi is a Primary weapon introduced in the 10.0.0 update.
Appearance
The Dual Uzis are mostly black and yellow with 3 red stripes running vertically on the sides in the middle.
Strategy
It has average damage, high rate of fire, medium capacity, and average mobility.
Tips
This does not have a scope so it's advised to get within medium range of your target.
The Dual Uzi carries a lot of ammo with reasonable damage, meaning you can miss a lot of shots and still get a kill. This makes it a good combo with the Jetpack.
Counters
Take advantage of the weapon's low mobility to sneak up on players with a melee weapon or flamethrower.
Try to pick off its users from long ranges or with area damage weapons.
Upgrades
Theme
N/A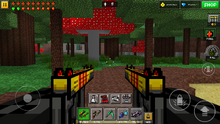 Supported Maps
Weapon Setups
This weapon is very effective when used in a setup with the Freeze Ray Rifle. The range and mobility of the Freeze Ray Rifle coupled with the Dual Uzi's power will be useful in any situation.
Trivia
When holding this weapon it will actually make your character's arms appear much darker.
A single Uzi-Uzi does 4 damage in contrast to how Dual Uzis do 16 damage.
It is one of the dual-wield weapons, the others being the Dual Machine Guns, Dual Hawks, Dual Revolvers, Dual Laser Blasters, and more. However, the Dual Uzi is the only dual-wielding primary weapon in the game, as all the other dual-wield weapons are backups.

The reloading animation of this gun is the same as the Dual Hawks.

The firing sound of the Uzi-Uzi is different from the Dual Uzi despite them using similar models and names.
Primary

NOTE: PGW weapons are no longer in this infobox. = Incomplete

Category page