| | | | |
| --- | --- | --- | --- |
| | | This is a removed content. It is no longer available in Pixel Gun 3D. | |
The Fire Demon was an upgraded version of the Skeleton Sword. It was one of the most efficient Melee weapons to use with the katana at rivalry. 
Appearance
The Fire Demon has a red-hot blade and handle, with a gray crossguard. On the crossguard, there is a face of a demon.
Use
It had the highest damage stat of any melee weapon available (much like the Ninja Sword, and the same than the Happy Tree Slayer and Dark Force Saber, but not much as Emperor's Blade). (However the Emperor's Blade is still worse).The Fire Demon could kill an enemy in 2-3 hits, making the Fire Demon a very reliable weapon.
In Knife party (a map), there is a throne with all the melee weapons. The Fire Demon is located in the middle part of the throne, largely visible.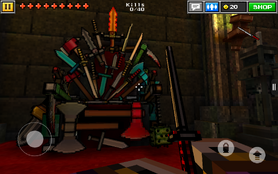 Trivia
In the 6.3.0 update the Fire Demon was given a fire effect.
In the 8.0.0, the upgraded Fire Demon, named Diablo is the first melee weapons to have 10 points of damage.
In 8.2.1 update, it was removed from the game. Its upgrade took its name and received two more upgrades in the 9.0.0 update.
This weapon can only be seen in the throne chair which indicates various melee weapons with it.
Gallery
Removed Content

Weapons

Primary
Backup
Melee
Special
Sniper
Heavy

Maps

Wear

Gadgets
Modes
Craft Items
Other
Games

= Complete

Category page