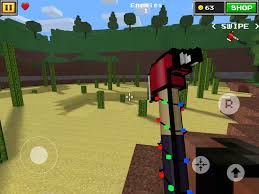 The Happy Tree Slayer is a Melee weapon.
Appearance
It seems to be a standard red hatchet, with red, green and blue Christmas lights wrapped along the handle.
Strategy
It does mediocre damage with moderately-high attack speed and low mobility.
Tips
Attack targets from behind.
Follow your enemy and attack when they stop walking.
Counters
Pick off its users from long ranges.
Shotguns quickly dispatch its users.
Theme
Recommended Maps
Equipment Setups
Have a weapon that can be used in ranges longer than melee range.
Trivia
Oddly, if you hold this ax, your hands appear somewhat darker.
This weapon is possibly inspired by the game "Team Fortress 2" in which every Christmas time they release A "festive" weapon for each class. Festive weapons are like regular weapons but have Christmas lights on them.
Its name could be a reference to the flash cartoon series, Happy Tree Friends, released in 1999.
This weapon was unreasonably removed in the 10.0.4 update.

However, in the 11.1.0 update, other player screens will see Warrior Axe Up1.

It was brought back in the 12.1.0 update, only being available in the Event Chest.

It was brought back again in the Event Chest in the 15.7.0 update.
Its name is a reference to the animated series Happy Tree Friends, which consists of juxtaposition of cute animals combined with graphic violence.
Its spiritual successor exists in the 15.7.0 update.
Melee
Community content is available under
CC-BY-SA
unless otherwise noted.