The Heavy Shocker is a Special weapon added in the 11.0.0 update.
Appearance
It has a pistol-like shape, brown and black scheme, a blue spherical emitter with a metal tip.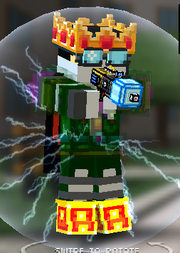 Strategy
It has tremendous damage, very high fire rate, low capacity for an electro-thrower, and average mobility.
Tips
Counters
Recommended Maps
Equipment Setups
Have a sniper rifle for long-range. An example is the Anti-Hero Rifle (PG3D). Also have an assault rifle with a scope for medium range. For example, the Secret Forces Rifle.
Trivia
Special
Community content is available under
CC-BY-SA
unless otherwise noted.