| | | | |
| --- | --- | --- | --- |
| | | This content is available in both Pixel Gun 3D and Pixel Gun World! If this is a game content, its counterpart is described in another article! | |
This article describes a Pixel Gun 3D weapon. If you're looking for the same weapon in Pixel Gun World, see Hellraiser Up1 (PGW).
The Hellraiser Up1 is a Primary weapon and released in the 8.2.1 Halloween update. It is the second form of the Hellraiser.
Appearance
It is based on the Heckler & Koch XM8. Like its predecessor, it has a yellow body and handle, a striped green birdcage style muzzle suppressor and 4x scope, with purple grip, cheekrest, and rubber stopper on the bottom of the handle, it also has a red magazine and collapsible stock.
Strategy
It's considered a very strong weapon due to its high stats and efficiency. It fires fast and inflicts a lot of damage. The ammo that it starts out with is 40/80. Each ammo pack gives you 40 ammo. Maxed out, it is 40/200, equaling to 240 ammo.
Tips
Wearing mobility increasing accessories can help offset this weapon's somewhat low mobility.
Counters
Since this weapon can be quite deadly in capable hands it is an effective strategy to try and sneak up behind the user.
Upgrades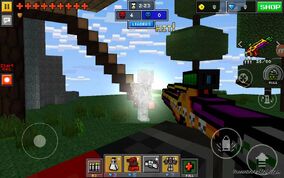 Theme
Halloween themed.
Supported maps
Weapon Setups
This gun works great on its own however it's mobility is somewhat low so have another high mobility weapon you can use for fast travel.
Trivia
As of the 8.3.1 update, the gun lethality was nerfed from 25 damage to just 14.

Primary
NOTE: PGW weapons are no longer in this infobox.

= Incomplete
Category page
Community content is available under
CC-BY-SA
unless otherwise noted.