The Hocus Pocus is a Backup weapon introduced in the 17.5.0 update. It can be obtained from the Easter Season Battle Pass.
Description
It is a golden revolver with a large purple barrel that fires translucent projectiles in the form of a rabbit's head. It deals massive damage and has decent mobility, however it suffers from a slow fire rate and a one shot capacity. When at max level, it is usually a 2 shot kill, sometimes 1.
Appearance
It has a golden like texture on parts of the gun, the grip of the gun has a bunny keychain attached to it. The barrel is a top hat with a bunny on it and under the barrel is supposedly a wand. On top of the gun has a scope with gold around it as well.
Performance
When the fire button is pressed, the user will fire a translucent projectile in the form of a rabbit's head. This projectile will move moderately fast, and will phase through objects and enemies until it dissipates after a few seconds.
Between each shot, the user will cock the hammer. It has a fixed delay mechanic which means it has a delay every time the user switches to it.
Strategy
Tips
Counters
Recommended Maps
Equipment Setups
Have a backup weapon from the Primary section, or a long-ranged weapon ready when the weapon is fired.
Changelog
17.5.0
17.7.2
Damage increased by 36%
Trivia
Gallery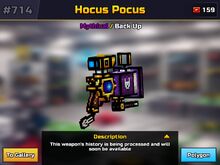 Backup
Community content is available under
CC-BY-SA
unless otherwise noted.