| | | | |
| --- | --- | --- | --- |
| | | This content is available in both Pixel Gun 3D and Pixel Gun World! If this is a game content, its counterpart is described in another article! | |
This article describes a Pixel Gun 3D weapon. If you are looking for the same weapon in Pixel Gun World, see Icicle Minigun Up1 (PGW).


The Icicle Minigun Up1 is a Primary weapon introduced in the 10.2.0 update. It is the second form of the Icicle Minigun.
Appearance
It is a blue cannon-like gun that has 4 icicles on the tip of the gun. There is a caution sign on the side of the gun.
Strategy
The weapon is good at short or medium range but not long as the accuracy and scope are not the best for long range. Since the weapons has ability to slow the target, it could be useful against players that have Storm Trooper Boots, Ninja Tabi or Berserk Boots
Tips
Use against players who are move quite a bit as the guns high rate of fire and slow the target ability as well as the high ammo capacity it can be very useful.
Use it when running since it can slow an opponent down.
Use in medium range battles between a Hallway of some sorts.
Because it is a minigun it has a large ammo clip so you shouldn't be worried about reloading.
Its recoil is very low, so don't mind firing too much.
Always aim for the head to get the highest damage.
If you are skilled enough this could be used in long ranges.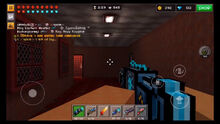 Counters
Use an area damage weapon.
Move around a lot so people can use up their ammo. Get at a long range so they have a hard time hitting you.
Since this weapon lacks a scope engage him/her from a distance (Weapons like one shot, prototype, etc.) However a skilled player could use tuis in long ranges, so be careful.
Upgrades
Theme
Winter themed.
Trivia

Primary
NOTE: PGW weapons are no longer in this infobox.

= Incomplete
Category page
Community content is available under
CC-BY-SA
unless otherwise noted.