| | | | |
| --- | --- | --- | --- |
| | | This content is exclusive to Pixel Gun 3D. It isn't in Pixel Gun World! | |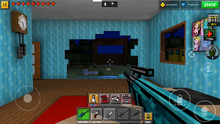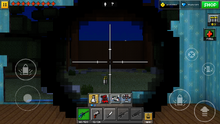 The Marksman Up1 is a Primary weapon. It is the second form of the Marksman.
Appearance
It has a black and blue camouflaged body with a blue camouflaged stock, grey and partly blue ammo clip, blue camouflaged handle, blue camouflaged grip, black scope, and a black barrel. It also has a 4x scope.
Strategy
It has good damage, great rate of fire, good capacity, and great mobility.
Tips
When engaging in long-ranged battles, use the scope for maximum accuracy.
It's best to strafe and shoot when engaging in short-ranged attacks.
Don't forget to unscope if enemies gone too close.
Aim for the head to maximize damage.
Counters
Try strafing while attacking the user to avoid getting hit. Especially if attacking close up.
Finish it's users off with a fast-swinging melee.
Pick off its users from long ranges.
Area damage weapons easily picks off its users.
Upgrades
Theme
N/A
Supported Maps
Weapon Setups
Have a weapon to engage targets at longer ranges.
Trivia
It is based on the real world AUG-A1 Assault Rifle.
Despite it's stats, it actually fires faster than the Rambo's Rifle.
Before the 8.1.0 update, it was called the "Marksman M2."
In the 9.3.0 update, the Pixel Gun Company increased the mobility from 120 to 130.
If you look closely, near the grip, there is a grey spot on top of the last block.

Primary
NOTE: PGW weapons are no longer in this infobox.

= Incomplete
Category page
Community content is available under
CC-BY-SA
unless otherwise noted.