The Napalm Cannon is a Special weapon introduced in the 11.1.0 update. This weapon can be found in the battlepass. 
Appearance
Edit
It is an orange hand held cannon with a lot of black and silver details, a black and silver clip and handle with a flame symbol at the end of the gun.
Strategy
Edit
The Napalm Cannon has good efficiency, moderate fire rate, low capacity and low mobility for levels between 7 and 16.
The burning effect for this weapon is very minimal, so try to aim for direct hits.
Use this against a large group of players.
Conserve as much ammunition as you can, as it is easy to run out of ammunition.
When running, use a highly mobile weapon like the Fire Demon.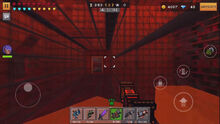 Counters
Edit
To avoid taking damage, try to strafe-fire, while also staying out of the burning radius.
Upgrades
Edit
N/A
.
Supported Maps
Edit
Weapon Setups
Edit
Have a long ranged weapon equipped, just in case you want to attack longer ranged enemies.
Special