| | | | |
| --- | --- | --- | --- |
| | | This content is exclusive to Pixel Gun 3D. It isn't in Pixel Gun World! | |
 The Slender Man is the boss in the Forest map in the Campaign. He drops the Double Barreled Shotgun upon death. 
Appearance
The Slender Man boss wears a black coat, a blood red tie, and a faceless face, with blood on its hands. Since the 10.5.0 update, it is much taller than the Slender Zombie and has acquired six tentacles that are sprouted from its back.
Behavior
Slender Man will walk near the player, dealing high damage to the player via swiping. Since the 10.5.0 update, its six tentacles will curve toward the player as it approaches. In the same update, it has also gained the ability to teleport, allowing it to effectively surprise and attack the player from behind. When teleporting, the screen experiences a flash similar to a television failure, with a quick shine of a light. This boss will continue to teleport next to you and then instantly attack you.
If you happen to be in front of this boss then it will just simply teleport behind you, but if you are trying to enter mazes or do complex maneuvers, this boss will most likely teleport to the side of you, on the left or the right. Upon defeating this boss the player will get the Double Barreled Shotgun (PG3D), one of the most powerful weapons in the campaign game mode.
Trivia
electricity and the melee deal Damage at the same time.
Tips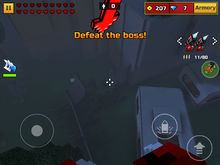 Stats
| Difficulty | Damage | Health | Speed |
| --- | --- | --- | --- |
| Easy | 5 | 30 | Moderate |
| Medium | 7-8 | 40 | Moderate |
| Hard | 10 | 50 | Moderate |
Gallery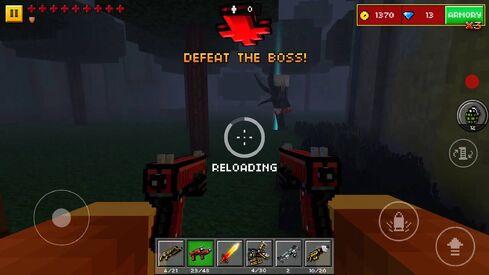 Enemies

Enemies
Bosses

= Complete

Category page