| | | | |
| --- | --- | --- | --- |
| | | This content is exclusive to Pixel Gun 3D. It isn't in Pixel Gun World! | |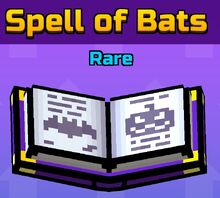 The Bats Spell is a Special weapon introduced in the 15.4.1 update.
Appearance
It appears to be a book which looks very similar the the shadow spell, but instead of an eye one the book it has a bat and a pumpkin symbol.
Strategy
Tips
This is more of an utility weapon than an actual primary gun (aka the main gun you always use), and do the lack of reload, you can use this to finish off enemies very quickly AND save your ammo for your primary/sniper.
Use it at medium to close ranges. Silent school, pool party and Christmas dinner gives one of the best results, assuming you're using it at the corridors.
Use this in conjuction with ultimatum to grant it a one shot kill.
Watch out for the newly buffed Emperor's Servants, as it melts you and your teammates due to their high ammo and high damage. This also applies to Vandals and Dual Machine Guns.
Counters
Avoid close range combats. Because at even medium ranges you can at least dodge the bullets.
One shot is the best counter because of the one hit ability and can reach very far away.
Trivia
It is the only special weapon to be added in the 15.4.1 update, besides witch broom and electric vortex.
Special

= Complete

Category page