| | | | |
| --- | --- | --- | --- |
| | | This content is available in both Pixel Gun 3D and Pixel Gun World! If this is a game content, its counterpart is described in another article! | |

This article describes a Pixel Gun 3D weapon. If you're looking for the same weapon in Pixel Gun World, see Swat Rifle Up1 (PGW).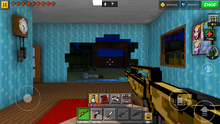 The Swat Rifle Up1 is a weapon that can be found in the Primary section of the Armory. It is also the first upgrade of the Swat Rifle.
Appearance
It has a desert camouflaged body with a grey ammo clip, grey handle, grey nozzle with a desert camouflaged suppressor, and desert camouflaged laser sight.
Strategy
It has good damage, a great rate of fire, good capacity, and very good mobility.
Tips
It is silent, so most enemies won't hear its gunfire very well, so this can be used for stealth attacks.
Medium ranges would be the most ideal range to engage enemies.
Try to aim for headshots as that would deal more damage to enemies.
Use the scopes for any medium ranges or attempts at long ranged kills.
Counters
Try strafing while staying very mobile to kill the user very quickly.
Try to snipe these users from afar, since this weapon cannot always compete with snipers.
Try to get in close, either using a melee weapon or a high DPS/damage based weapon to swiftly kill enemy users.
Upgrades
Themes
N/A
Supported Maps
N/A
Trivia
It was previously called "Spec Ops Rifle".
It is based on the real world FAMAS F1 bull pup assault rifle.
Spec Ops means "Special Operations".
This gun has its gunfire sound changed after being upgraded from its downgrade, Elite Rifle.
This and the Elite Rifle have been changed to the SWAT Rifle and the SWAT Rifle Up1 respectively.
The base form and Up1 doesn't have a scope until the Up2 version.
A laser pointer was included onto the bottom of this weapon when this weapon was first introduced.
Primary

NOTE: PGW weapons are no longer in this infobox. = Incomplete

Category page