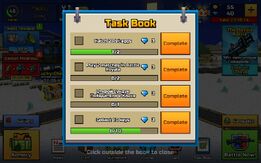 The Task Book is a feature that tells the player to do certain tasks to get a reward.
Objectives
The objectives are generally the various possibilities that can be done in the game. They could go from winning a match, managing the player's friends or killing some monsters to opening an event chest or do something for the Battle Pass.
Rewards
Usually, the rewards would be about earning currency. The player can earn a certain amount of gems per task (usually three gems), coins or even battle crowns.
Trivia
When it was introduced, some rewards were written in Russian, regardless of the player's language that they use.
It is the successor of Quests.
Miscellaneous Content

= Complete = Incomplete/Outdated

Category page
Community content is available under
CC-BY-SA
unless otherwise noted.