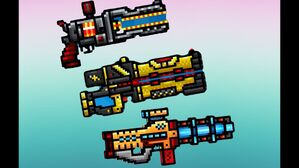 The 3 cat spam is officially removed. Doing this spam will be no longer possible.
Three Category Spamming or as known for short Three Cat Spam or Quick Switching is where a player quickly fire their one-shot weapons and then quickly switches to 2 other one-shot weapons. The weapons used are usually wallbreak weapons, and the three categories are sniper, special, and backup. This practice is also paired with spamming one-shot heavy weapons such as the Christmas Ultimatum, using high mobile melees s, and primaries such as the Black Mamba as a backup. The player also may Rocket Jump while doing this. This practice is often considered "no skill" as it can easily kill players that are playing normally with their primary weapons.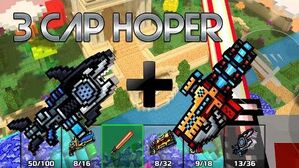 Weapons are used:
Free to Play options: Exterminator, Laser Bouncer and the Prototype (PG3D) or the Anti-Hero Rifle (PG3D)
Pay to Win options: Thunderer, Reflector (Weapon) and the Alien Sniper Rifle
Craftable items are: Prototype S
Rocket Jump items: Berserk Boots or Ninja Tabi (PG3D); 0xbadc0de or Killer Whale.
Melees: Usually Three Cat Spammers will switch any melee which has 85 mobility which increases their movement speed.
Other items: Area damage heavy and fast firing primary as a back up.
Counters
Kill the users of this strategy using high damage weapons like the Secret Forces Rifle.
Snipe them with high damage and DPS snipers.
Use area damage weapons such as the Electromagnetic Cannon.
Slow down weapon can affect the Three Category Spammer if he/she is rocket jumping.
Or being a Three Category Spammer yourself can be effective when countering.
Trivia
It now takes significantly longer to switch weapons than the usual.
The Anti-Champion Rifle has been removed as it was a weapon in the sniper category that people used to three cat spam.
An alternate version of the three cat spam can be done with area damage weapons instead of laser weapons.
It is still possible to 3 Catergory Spam using non-laser weapons, such as the Laser Revolver, Poison Darts, and Poseidon Trident.
Miscellaneous Content

= Complete

Category page