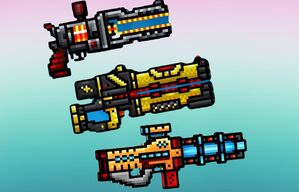 Three Category Spamming
or as known for short
Three Cat Spam
or
Quick Switching
is when a player quickly fires their one-shot weapon and then quickly switches to 2 other one-shot weapons. The weapons used are usually wall-break weapons, and the three categories are sniper, special, and backup. This practice is also paired with spamming one-shot heavy weapons such as the
Christmas Ultimatum
, using high mobile melees, and primaries such as the
Black Mamba
as a backup. The player also may
Rocket Jump
while doing this.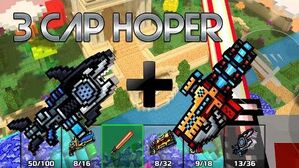 Weapons Used
Craftable items: Prototype S
Rocket Jump commonly used items: Berserk Boots or Ninja Tabi.
Laser Revolver (First Laser Revolver then Sniper: IT WORKS!)
Sniper Exoskeleton
Poison Darts
Melees: Usually Three Cat Spammers will switch to any melee which has 85 mobility, to increase their movement speed.
Other items: Area damage heavy and a fast-firing primary as a backup.
Counters
Kill the users of this strategy using high damage weapons like the Secret Forces Rifle.
Snipe them with high damage and DPS snipers.
Use area damage weapons such as the Electromagnetic Cannon.
Slow down weapons can affect the Three Category Spammer if they are rocket jumping.
Being a Three Category Spammer yourself can be effective when countering.
Try to avoid being on the ground considering the fact that 3 cat spammers rely on you being on the ground.
Trivia
It now takes significantly longer to switch weapons than it was previously for balancing purposes.
The Anti-Champion Rifle has been removed as it was a weapon in the sniper category that people used to three cat spam. It was re-added again.
There is a glitch where the player can do the three category spam using the Comet.

It was patched in the 15.99.0 update.
Miscellaneous Content

= Complete = Incomplete/Outdated

Category page
Community content is available under
CC-BY-SA
unless otherwise noted.