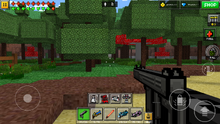 The Uzi-Uzi is a primary weapon that can be unlocked in Campaign and it is also can be used in Deadly Games. It is also found in the round 6 of Survival (Mode)
Appearance
It is a stubby Uzi Submachine gun with an all gunmetal grey color. It has two hand holds and an non-extended ammo stock, as well as iron sights with no function currently.
Strategy
It has a damage rating of 4 damage and has a very fast firing rate, making this gun a somewhat effective weapon,
Tips
Try to fire in bursts, the weapon's accuracy DOES decrease when spam firing.
Aim for the head for maximum damage.
This should be used for close engagements, due to the inaccuracy while firing.
Counter
Engage the enemy from longer ranges.
Circle around the enemy to avoid getting hit.
The damage of the weapon won't post much threat on armored players. Avoid its users when having low health or armor.
Area damage weapons can make easily finish off its users.
Upgrades
N/A
Theme
None
Supported Maps
N/A
Weapon Setups
Have a weapon with a longer range to engage players from afar.
Trivia

 
It is based off the real-world Israel Military Industries Uzi SMG. The real gun is here.
It is also one of the only 4 weapons that cannot be used in Survival.
The others that are not included in survival are the Army Rifle, Sniper Rifle, and Double Trouble.
It is used in the Deathmatch update but was removed along with Best Friend and can only be used in Deadly Games and Campaign.
It is the first weapon received after defeating the boss in Campaign.
This weapon has a super fast fire rate with a crosshair that expands and shrinks greatly after each bullet
There is another weapon similar to this one called the Dual Uzi and the Social UZI.
Removed Content

Weapons
Maps
Wear
Gadgets/Gear/Potions
Modes
Craft Items
Achievements
Other
Pixel Gun World content

= Complete

Category page