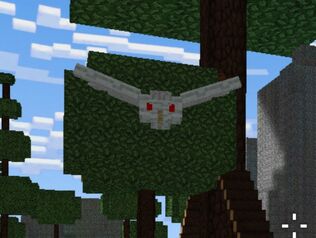 The White Bird is a common enemy of Sky Islands.
Stats
The stats are different from each modes. Here are their difference to each other:
Easy
Damage: 1
Health: 2
Speed: Fast
Medium
Damage: 1
Health: 2
Speed: Fast
Hard
Damage: 1
Health: 3
Speed: Fast
Behavior
It will fly towards the player, staying well above the line of sight. It will peck at your head when close enough.
Appearance
It's very similar to other birds like the Black Bird, but it has red eyes, a yellow beak and its body is white.
Tips
Aim with good accuracy because it is hard to hit this mob.
Levels
Trivia
There are a few other enemies which are very similar to it.
It is a color swap of the Black Bird.
Enemies

Enemies
Bosses

= Complete

Category page