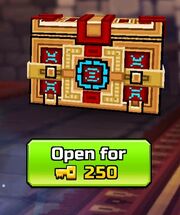 The Winner Chest, also known as the Blue Event Chest, is one of the 3 chests in the Super Lottery event introduced in the 12.5.3 update.
Appearance
It appears as a blue chest with light gray edges. The top is mostly light gray, and blue. On the side, it is blue, but with a light gray line in the middle. In the center of the front side, it is golden and light blue. There are some metal details on the front side.
Use
It is used to earn prizes, including currencies, craft items, pets and weapons.
Prizes
High amount of weapon parts
100 Craft item Gears (sometimes)
Weapons (sometimes)
Pets (sometimes)
Royale items (or royale item parts)
Cost
Points Received
190 (as of September 6, 2019)
400 (before September 6, 2019)
Trivia
It is one of the 3 chests in the Super Lottery event. The other two are the Green Chest and the Brown Chest.
Out of all the 3 chests, it is the most expensive chest, and has the most valuable prizes out of the 3.
This chest looks like the Stealth Bracelet but as a chest.
In the 16.5.0 update, it got a new remodel for every specific event.
Miscellaneous Content

= Complete = Incomplete/Outdated

Category page
Community content is available under
CC-BY-SA
unless otherwise noted.