The Witch's Sheep Cauldron is a Special weapon introduced in the 16.5.0 update but unavailable until the 16.6.0 update. It can be obtained for a limited time as part of the Trader's Van event in the armory.
Appearance
It takes the form of a small cauldron with a sheep's head at the front, holding a bubbling purple potion. And a small wand with a small sheep figure on top of it.
The player will stir the wand in the solution until the fire button is released, when released, it shoots a purple projectile, which will turn an enemy into a Sheep.
When an enemy is turned into a sheep, he/she cannot use any weapons or gadgets and the camera will switch to a third person perspective. The screen will also say "You turned into a sheep". As a sheep, the affected enemy can move, jump, and attack in the same way a pet sheep would. The affected enemy will revert back to normal 5 seconds later.
Strategy
Tips
Counters
Supported Maps
Weapon Setups
Have a backup weapon for dealing with enemies at close-medium ranges.
Trivia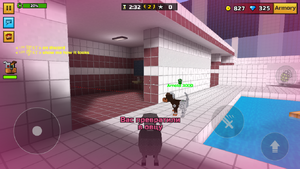 Special
Community content is available under
CC-BY-SA
unless otherwise noted.